Australia has been an important part of the Glencore business for 25 years.
Our 17,350 employees and contractors at Glencore Australia work together in a mining, marketing and distribution network across the country.
We have become one of Australia's largest coal producers, as well as copper, zinc, lead, nickel and cobalt.
We mine and export a range of other metals and minerals, including silver and gold.
Read on to learn about the history that shaped who we are today.
Nickel and cobalt beginnings
Our presence in Australia began in 1998 when we acquired Minara Resources and its remote Murrin Murrin nickel and cobalt mine in Western Australia.
Nickel and cobalt, along with copper, are significant commodities for Glencore and will play a key role in the global transition to a low carbon economy.
We continue to mine these minerals at Murrin Murrin and export them out of Kwinana, south of Perth.
Find out more about our nickel cobalt resource on the Minara Resources website.
Coal beginnings in the Hunter Valley
Coal was first shipped from New South Wales' Hunter Valley in 1799 as Australia's first commodity export.
Today Newcastle is the world's largest coal export port and we are proud to be one of Australia's largest coal producers.
Two initial mine acquisitions
Glencore first invested in the Australian coal industry in 1998 when we acquired the Cumnock and Mt Owen mines.
Cumnock remains a part of our Ravensworth Surface Operations since closing in 2011, and is being rehabilitated while adjoining Narama and Ravensworth North open-cut mines continue to produce thermal coal.
Mt Owen continues to operate strongly alongside Glendell open cut mine.
Find out more about our Mt Owen/Glendell operations.
The spread of our commodities
By 2002, our Australian expansion was accelerating rapidly in metals and minerals, energy products (including coal) and agriculture. The timeline below outlines our mining investments since 1998.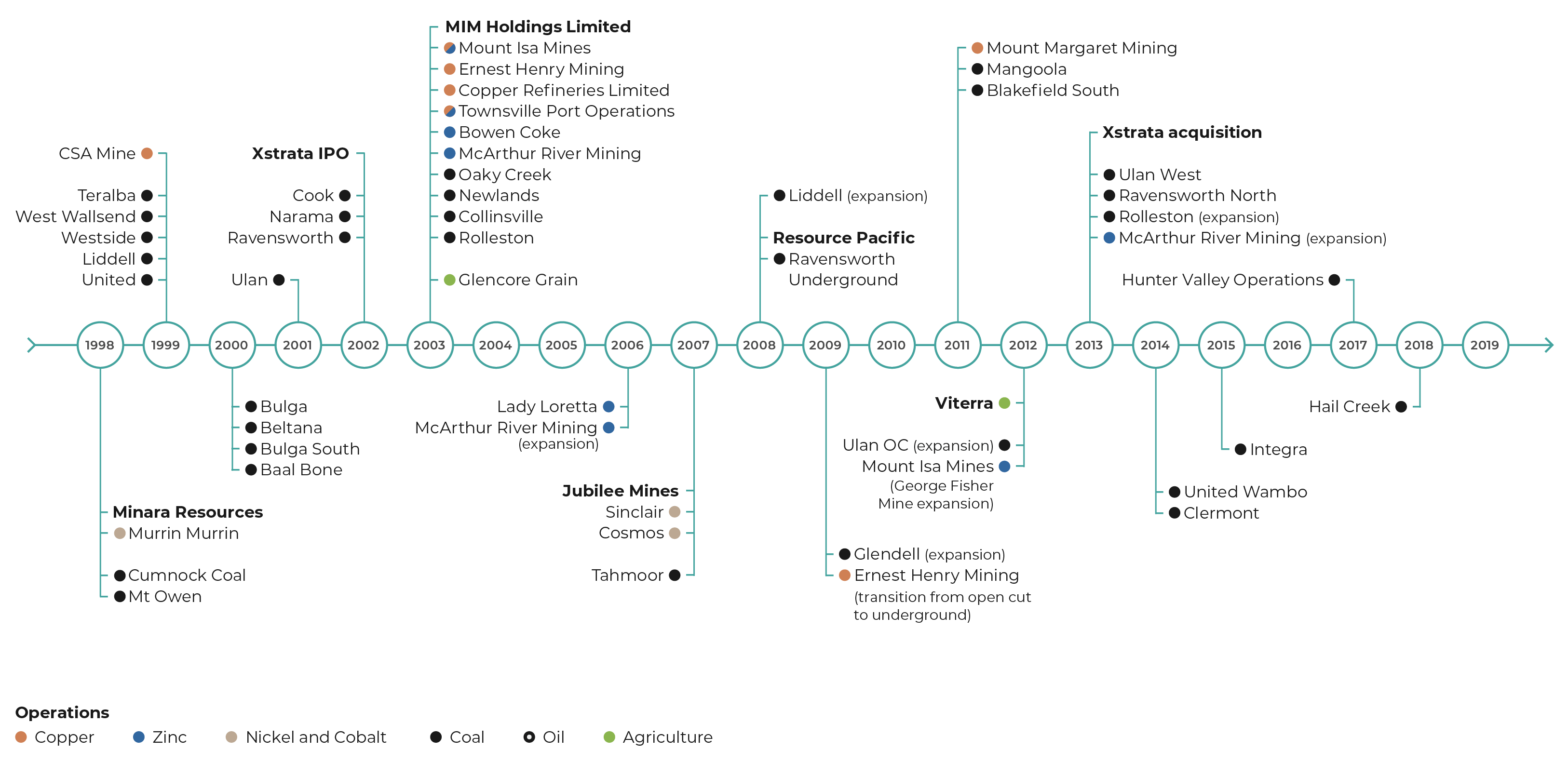 Glencore Australia mining investment timeline
Our Xstrata connection
Xstrata plc was created through an initial public offering on the London Stock Exchange in 2002, acquiring Glencore's Australian and South African coal assets and making it the world's largest exporter of thermal coal.
Over the next decade, Xstrata grew to become one of the largest diversified mining companies in the world, with a significant footprint in Australia. This included coal, copper and zinc operations in Queensland, New South Wales and the Northern Territory.
Glencore remained a significant shareholder of Xstrata, and in 2013 we acquired Xstrata to form Glencore Australia as we know it today.
Significant investments in coal, copper, zinc and lead
In 2003, Xstrata doubled in size with the $2.9 billion takeover of Australian copper, coal, zinc and lead mining and processing company, MIM Holdings Limited.
The acquisition included the:
North Queensland port of call
Environmental responsibility
Every mine operation has a finite life and we aim to return the land we temporarily use for mining to a condition close to, if not better, than when we found it.
We put significant focus on our mine rehabilitation efforts, returning previously mined land to a variety of uses, in consultation with local communities. By January 2019, our Australian coal operations had rehabilitated 17,000 hectares of mined land to native vegetation or grazing pastures.
Government and public recognition
Our Newlands mine complex was the first in central Queensland's Bowen Basin to earn state government certification for successful rehabilitation of previously mined land while coal operations continued.
Our Rolleston mine in Queensland quickly followed in receiving certification and two of our New South Wales mines—at Westside and Ulan—have also received state government certification.
Our work rebuilding Ravensworth State Forest at Mt Owen was recognised internationally.
More power to you
Three years after Teralba mine's closure in 2001, an Envirogen power station was built to use fugitive methane emissions from the old New South Wales mine.
The plant prevents tonnes of CO2-equivalents from entering the atmosphere each year and generates enough electricity for 16,000 homes.
A leading exporter of Australian agricultural commodities
Glencore Agriculture began operations in Australia in 2003. In 2012, we acquired Viterra's global storage and handling business, which included multiple storage sites across south-eastern Australia and six grain export ports in South Australia.
Today, Viterra remains one of the largest buyers of grain, oilseeds, pulses, sorghum and cotton direct from Australian growers.
Glencore today
Our business has grown steadily through acquisition, including Viterra's agriculture business in 2012 and Xstrata's mining business in 2013. In 2016, Glencore sold a 50.01% stake of its agriculture business to the Canada Pension Plan Investment Board and British Columbia Investment Management Corporation.
We hold significant interests in a range of commodity industries across all mainland states and the Northern Territory.
Gateway to world markets
Within many of our Australian operations, we:
explore and originate the commodity
produce it
process and refine it
market and blend it
handle, store and transport it to our customers around the world.
We are proud of the major contribution we have made, and continue to make, in Australia.
We have made significant investments throughout numerous commodity price cycles, including buying and building mines.
In the process, we have created and maintained high levels of employment for two generations of Australians, while supporting thousands of local and regional businesses, and generating tax and royalty revenues for federal and state governments.